9/7/2013
Night Race Toronto
Adventure 5K & 10K Toronto 70
Join us to experience the Night Race™ – a night run that you will never forget. The race will take runners through the Sunnybrook Park to create a moving celebration of light – a celebration that will continue at our post race party!
---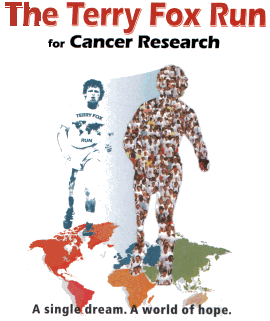 9/15/2013
Terry Fox Run
5K, 10K Mutiple locations throughout Toronto Free
The Terry Fox Run is an annual non-competitive charity event held in numerous regions around the world in commemoration of Canadian cancer activist Terry Fox, and his Marathon of Hope, and to raise money for cancer research.
---
9/21/2013
Scotiabank Toronto Waterfront Marathon and Half Marathon
Marathon, Half Marathon & 5km Toronto Marathon: $110 Half Marathon: $85 5K Run: $55
The flat and fast features of this event have consistently been the reason for so many people achieving a personal best, qualifying for Boston, having a memorable first marathon or an outstanding race. Power walkers and slower runners also love this course because of its 6 hour time limit.
---
10/6/2013
CIBC Run for the Cure 5km and 1km run/walk
1 km run/walk Toronto
The CIBC Run for the Cure is a 5k or 1k walk or run that raises funds for the Canadian Breast Cancer Foundation. It is the largest single-day, volunteer-led event in Canada in support of the breast cancer cause.
---
10/12/2013
Oasis Zoo Run
10km & 5km, Kids Run Scarborough Waitlist
A Canadian Running Series Event.
---
10/18/2013
Run for Playgrounds
5&8k/1k fun run Toronto
Playgrounds are the heart of our communities, but many need to be rejuvenated. So we're holding the first Canadian Tire Run For Playgrounds event. An 8k run, a 5k walk / run or stroll and a kids event to raise money to help give local kids a sporting chance and revitalize our community playgrounds.
---
10/19/2013
Colors of Hope
5k Triathalon Toronto
---
10/20/2013
Mountain Equipment Co-op
5k/10k Toronto $15-entry fee
The MEC Toronto Fall Classic is a great way to wind up the fall running season with this fun run along the Martin Goodman Trail!
---
10/26/2013
Toronto Women's Runs
8k/5k Toronto
All participants will receive a pair of Toronto Women's Run Series running gloves, a great race kit and a finisher medal. There will also be our post race chocolate station, the firefighters will be out there "manning" the water stations and you will be treated to our usual great post run party.
---
10/26/2013
The Amazing Pace
Toronto
---
10/27/2013
Monster Dash Toronto
5k/10k Toronto Adult 10K $79.10 Adult 5K $67.80 Youth 10K $45.20 Youth 5K $45.20 Spooky Mile $22.60
Monster Dash is Toronto's first Hallowe'en Run! The evening promises to be entertaining, fun, unique and yes, it's at Night. Support Canada's largest chidlren's rehab hospital, Holland Bloorview, lace up those sneakers and maybe throw on your favourite Hallowe'en Costume too. There will be a Spooky Mile for kids, an accurate 5 and 10km run in beautiful Leaside and adjacent SunnyBrook Park. Unique runner's gift, entertainment, music, awesome post run party with BEER.
---
11/3/2013
Ontario Masters Sunnybrook 8K Cross Country
8K Toronto
---
11/10/2013
Downsview Half Marathon & 5K
Half Marathon & Half Marathon Relay Toronto Half Marathon $80-95 5K $45-60
One of the highest points in Toronto is in Downsview Park, the Mound. The Downsview races fortunately don't climb the Mound, only go around it and past the lake, the orchard and more than 10,000 trees.
---
"
11/23/2013
Forget Me Not-Empower Our Youth Today
5K Toronto 5k $15-30 5K Organization $70 5K-12 and under Free
Proceeds from this race will benefit Youth Action Network/ Réseau Action Jeunesse.
Race organized by F.R.E.S.H Collective Furthering Resources Empowering Social Health.
---
"
12/1/2013
Tannebaum 10K
10K Toronto 45
Running in support of Community Centre 55′s "Share A Christmas" program which aids local families during the holidays by providing gifts, non perishable food items, and a full turkey dinner to enjoy on Christmas Day.
---
12/7/2013
Santa Shuffle
5Km fun run 1Km Elf Walk Toronto $15-85
---
"
12/7/2013
Santa Speedo Run
3k Toronto We ask that each entrant raise a minimum of $250.00
It started in 2005.
It was originally a whimsical idea conjured up in a fit of dementia.
It's a fun run with the only objective being to raise as much money as possible to the Toronto Hospital for Sick Children Toys and Games fund.
It's a chance to make a complete and utter spectacle of yourself.
---
"
"
12/31/2013
The Annual Resolution Run Toronto
5K Torento $45-55
Start the New Year off on the right foot by establishing or maintaining an active lifestyle. In addition to post-event refreshments, you will also receive a stylish limited-edition Resolution Run Jacket. Plus great door prizes courtesy of
---
"